A place of myths, a wood sacred to Latin poets, land of ancient pagan cults and the mountain of the Archangel Michael: the Gargano is not only an area with an incredible environmental heritage but also a land that evokes and narrates the age-old history of coexistence between man and nature.
Extensive olive groves of the 'Plain of Mattinata' and the evocative path of 'Bay of Mergoli' until 'Vignanotica' are just some of the features that make the Gargano promontory a perfect example of a man-made landscape, bearing witness to the centuries-old work with which man has shaped these exclusive and unique natural environment.
Let's go on with the path of "Bay of Mergoli-Vignanotica" which has been renamed the "Path of love" for the beauty of the landscapes and the breath-taking panoramic views. It immersed us in the low Mediterranean scrub, offering a panoramic view of the sea below embellished by the sea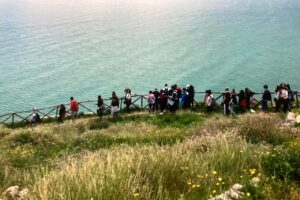 stacks of the bay of Zagare. The trail continues through olive groves and pine forests, where two rest areas are situated before entering the pine forest and where the descent begins towards the spectacular beach of Vignanotica. With its white overhanging cliffs, it is one of the most charming beaches of the Gargano promontory. The trail runs through one of Italy's most beautiful Aleppo pine forests, characterized by dense undergrowth featuring the typical evergreen plants of the Mediterranean scrub where it is easy to see orchids and other rare botanical species.
I recommend you to choose this path of naturalistic and scenic interest for its incredible mix of smell and colours!