The park "Daunia Avventura" is located at the foot of the Cornacchia Mountain (only 4 km from Biccari) and it's the ideal destination for people who love being surrounded by nature without compromising on strong emotions.
It is possible to engage in acrobatic paths made with wooden platforms, steel cables, ropes and nets while suspended among tall trees. All of that under the supervision of a high qualified staff and with the required safety equipment.
The park is suitable for both adults and children, you can choose which itinerary to follow according to its difficulty, going from a maximum height of 5 m from the ground to 12 m, each of them has a different number of crossings and various challenges. Not to mention the cableway itinerary, that lets you hook to a 90 meters long cable for a downhill at full speed.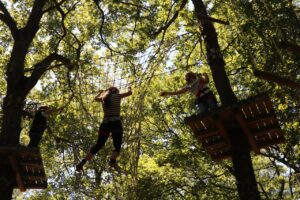 It is also possible to practice archery, trekking, mountain biking, and orienteering (or to utilize the Bed&Tree area to sleep in a wooden tree house)
It is basically the perfect occasion to challenge yourself, live a unique experience and have fun with your family or with your friends. At the end of your adventure visiting the Pescara lake is a real must, a perfect location to relax and enjoy a stunning view while being in close contact with nature, as our beloved Apulia always offers us.