Gargano is a land full of natural beauty as well as excellent gourmet products, such as Carpino's Fava bean.
Carpino is a small town in the north of Gargano, near the Lake of Varano. The microclimate and the calcareous and clayey soil are perfect for the cultivation of the Carpino's Fava bean, whose distinctive features are the small size and a dimple at the bottom. It is a basic food of the Mediterranean diet thanks to its nutritional properties, it is rich in protein as well as carbs, vitamins, mineral salts and fibre. It was once considered as "poor people's meet". In addition, it is also rich in dopamine, useful on the nervous system and in the therapy of Parkinson's disease.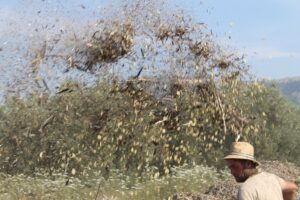 The planting is done between late November and early December. In mid-June when the plants turn yellow, they are harvested by hand, tied in ricks (called in dialect manocchj) and left to dry in the field.
Between late June and early July, on a part of the ground is placed some humid and flattened straw that forms a rug (the arij). On this straw rug are placed the ricks that are then crushed (the weighing stage) with a tractor (in the past this phase was made with horses) and, later, with the help of wooden forks the excess straw is removed.
For the last phase, the ventilating, you have to wait for the breeze that comes from the lake in the early afternoon and, with wooden shovels the fava beans are thrown in the air so that the breeze the breeze takes away the residue of dirt and the fava beans fall on the straw rug. At the end of these stages, the fava beans are cleaned, selected and packed in producers' companies.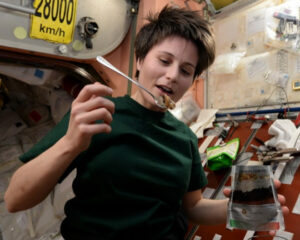 Since 2002, Carpino's Fava bean is one of the 5 Slow Food Presidia of Gargano (Citrus fruits of the Gargano, Podolian Caciocavallo, Podolian cow, Garganic goat). In 2014, Carpino's Fava bean was one of the main ingredients of the Soup of Legumes eaten by the astronaut Samantha Cristoforetti in the Orbiting Space Station. The 4 legumes used in this soup were chosen after being selected among all the legumes in the Italian Slow Food Presidia, because they are rich in nutritional substances capable of supporting an organism in a particular condition such as the absence of gravity.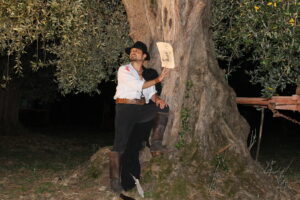 The association "Fave di Carpino" (that brings together the producers monitored and controlled by the Presidium) organises, every year at the end of June, the Festa della Pesatura (Feast of the Weighing) to revive and make known the traditions linked to such a particular cultivation with naturalistic routes and tasting. The feist ends with a theatrical performance among secular olive trees.