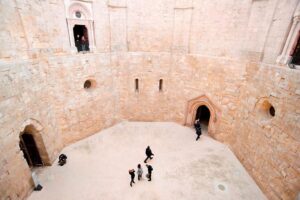 At least once in our life, we all have been fascinated by Italian culture and its vibrant, catchy archaeological heritage, so here comes the truth about it and all its magical background.
When it comes to book and set off on holiday it would be more satisfying to choose a place which can both amaze us with its beauty and historical heritage; personally, before I set off on holiday I love to read news about the place I want to go to.
This time it would come in handy for you readers, reading this article about Apulia historical heritage and what their "conquistadores " left behind.
As you walk around Apulia you might discover lots of castles: a good number of them were built by Roman, such as Castel del Monte, proudly built by the Holy Roman Emperor Frederick II in the 13th century, sometimes called the "Crown of Apulia". Also, It was declared World Heritage by UNESCO in 1996, and it is one of the best-preserved medieval castles in Southern Italy.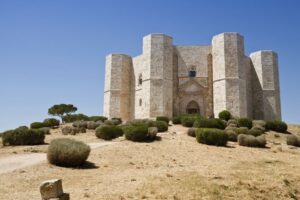 This castle probably it's the most unique castle all over Apulia because its octagonal shape and also because it was built in a strategic area: it's nestled in the full nature over a hill bathed in the sun. According to Romans, to forge buildings under the "spotlight" was a needed thing as the sun conditioned the orientation of sacred buildings and harmonized the shapes.
Even though this castle lacks drawbridge, moat and machicolations, all those elements that are necessary for the proper defence, it could boast a strategic element in the communication system; as required by Frederick II, the castle was built near the sea, which could ease commodity training.
What about the castle's architecture? Well, it worts the hype to visit such appealing castle! The castle was built using three types of material: limestone, white marble and coral breccia to bestow the walls of the building a chromatic effect.
As we mentioned before, the castle is built in the shape of an octagon which represents the median figure between the square, the symbol of the earth and the circle which symbolize the infinite sky. On each corner of the castle, there are eight towers of the same shape whereas the interior it's designed with high cross vaults.
Although the castle appears stripped of decorations due to vandalism, in the past the interior was all covered by mosaics. So, do not miss the chance to visit this astonishing castle and give yourself the possibility to go back in the past just by pacing around the castle and Apulia.