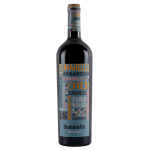 "First of all, why Sumarello? Not everyone knows that the Nero di Troia is one of the three most important Apulian autochthon grape varieties. Furthermore, it is also known as Sumarello in northern Apulia, where it is most popular." Therefore, as the oenologist Giuseppe Niro explained, Sumarello Teanum is a tribute to the traditions of our territory.
"That is why we decided to offer a preview from the 6th to the 12th of December in the best restaurants in the provinces near Foggia. The "Debuttarello Sumarello" events calendar is made of a series of tasting nights, in which Teanum will offer the Sumarello to all guests for free. At the end of the dinner, every guest will receive an approval questionnaire, which can be completed anonymously to immediately receive a 10% discount to purchase this new wine". That's what the attorney Andrea Demaio said.
"This unanimous launch has been possible especially thanks to the partnership with local restaurateurs, who have been immediately enthusiastic towards the initiative. We believe the cooperative approach is the strong point of this event. We hope to do events of this kind again in the future, to continue to give value to the food and beverage excellences of the Fovean areas." These are the words by Mario Pacentra from the winery sales office.
Cantine Teanum has recently gained many awards in several national competitions in the field. The 2019 IGP Otre Passito has been one of the few Apulian sweet products to have won the Award Gold at The Wine Hunter in Merano. On the other hand, the 2015 DOP Gran Tiati Gold Vintage San Severo Riserva has won the Red Award.
SUMARELLO TEANUM: TECHNICAL SHEET
Grape variety: 100% Nero di Troia | IGP Apulian Red Wine
Gradation: 14,5% vol.
Cultivation System: Espalier
Production per hectare: 900 kilos
Harvest: Manual
Vinification: 25 days to prolonged maceration in steel containers
Aging: in 50 hl French barrels for 14 months, then aging in bottle for 6 months
Distinctive characteristics: bright red color with good consistency. It is complex to smell, with sweet nutmeg spicy notes. The tannins are soft and elegant.
Pairing: perfect with roasted and baked Apulian torcinelli.